HOW TO GET YOUR CAT TO USE THE FLUFFY CAT BED
Just like any cat lover, you want your cat to be happy and have a comfortable place to sleep. Somewhere they feel safe and can get uninterrupted sleep for as long as they like.

There are many different kinds of cat beds out there, and we can not speak for all of them. This article refers to the Leo's Paw Fluffy Cat Bed.
Our comfortable donut-shaped cat bed:
is reminiscent of their mother's fur coat

creates 

a sense of security
offers orthopedic support
is filled with extra PP cotton
is covered with soft cotton plush
is self-warming
has a calming, anxiety-easing effect
helps with joint and muscle pain relief
is available in 5 different colors and 3 different sizes
and is actually cat approved.
We're delighted to guide you on how to get your cat to get used to a new bed:
First of all - Choose the right bed size

If your cat usually sleeps all curled up, a smaller, round bed with raised sides is what you're looking for. The raised sides creates a sense of security for them. If your cat sleeps all stretched out, you should consider getting a larger bed.
Once the bed arrives to you, you unwrap it and immediately assume your cat's going to love the new bed. Although, most cats love our Fluffy Cat Bed from the very first moment. But if your cat is nervous, distrustful, or suspicious by nature, a new, big and unfamiliar fluffy "thing" might seem fearsome at first. So that's why you should:
Choose an appealing location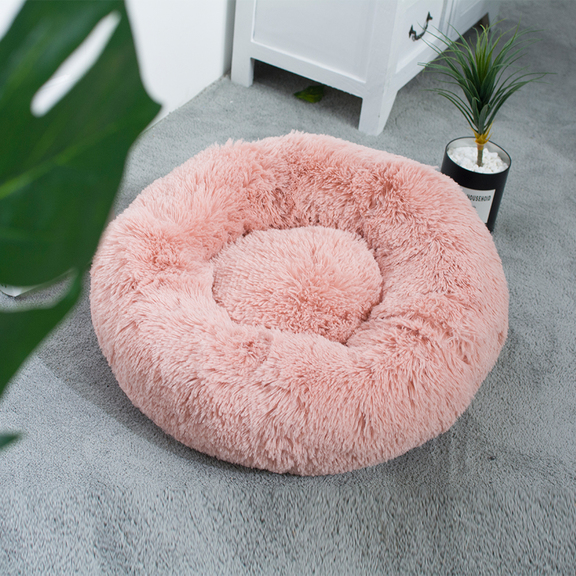 If you already know where your cat likes to sleep, place the new bed there. Usually, a low-traffic area where it's nice and quiet. If your kitty prefers sleeping up high, place the bed on a platform high up. This will also keep him/her away from the family dog and/or the kids.
Use your cat's favorite blanket
If your cat has a favorite blanket, place that in the bed as well as that already has its own smell on it. This may be enough to persuade him/her to use the new bed. Chances are that your cat is used to cuddling with you, so you can also put one of your t-shirts in his/her bed, your smell should be very enticing. And when they've gotten used to the bed, you can remove your t-shirt.
Use treats or catnip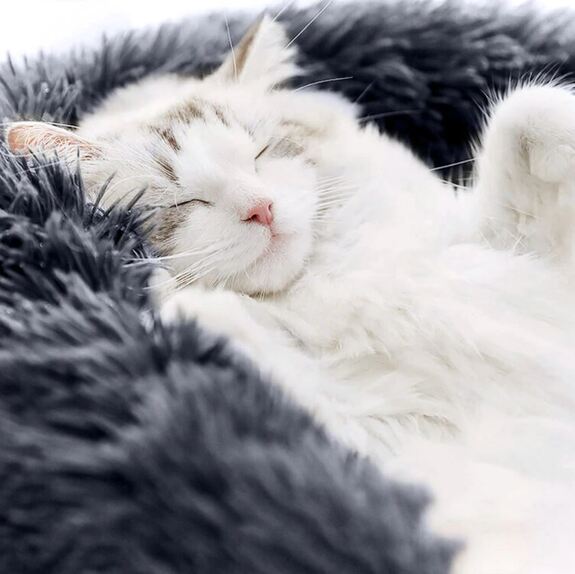 Sprinkle the bed with your cat's tastiest treats and add some fresh catnip. It's a very rare cat that can resist catnip, so your cat will likely jump in bed and start rolling around. When they are over their catnip "high" cats usually curl up and fall asleep.
Make sure the bed is clean
Cats naturally have a keen sense of smell. Our Fluffy Cat Bed is machine washable, so as soon as it arrives, toss it in the washing machine to make sure there are no factory or warehouse odors in it. After your cat has then been using the bed for a time, if he/she suddenly stop sleeping in the bed, it may be soiled, which means it's time to wash it again.
Explore more appealing locations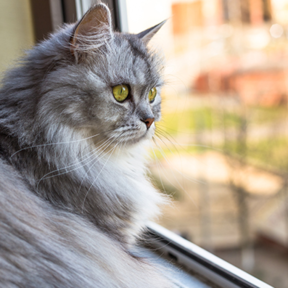 Many cats prefer sleeping in a warm, sunny place, so you might want to place your kitty's bed up on a windowsill or on top of a cat tree with a platform that gets a lot of daytime suns. Cats also love a great view, so from this vantage point, your cat can relax in the bed and enjoy watching the birds, squirrels, and other happenings outside.
Written by:
William
---
5 comments
---
---