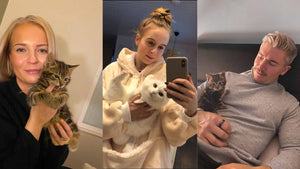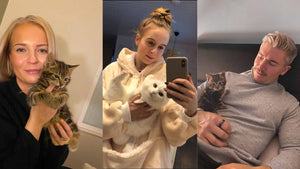 The company built by cat owners, for cat owners
About us
Created out of love for furry friends, our mission at Leo's Paw is to offer products that improve the everyday life of cats and cat owners. Being cat owners ourselves we only offer what we believe is the best which is why we don't overload with products, because we're picky, just like our pets.
We're not a big soulless corporation but a small family-owned business passionate about providing the best for furry friends and their owners. We do this through products that are not only innovative but actually cat-approved.
Most of our team members are cat owners. This means that we are basically our own customers and we use our own products on a daily basis.
Being cat owners ourselves, it helps us come up with amazing products that are actually cat-approved because we always test and use products for our own cats first.
We are just like you and we believe in treating others the way we would like to be treated ourselves. This affects everything we do, including what products we offer, the support we provide, etc. When you are happy, we are happy, and only then!
Our Story
The company was founded in 2020 in a small Finnish town in Scandinavia with headquarters still located there today. We wanted to create an online marketplace that offers cat products that are not only solving a problem but are actually cat-tested and cat-approved. As an online retailer we serve customers all over the world with the main market being the United States, Canada, and Australia. Our US warehouse is located in Chicago - locally known as "the windy city."
We're so happy that you're here and joining us on this journey. Welcome to the Leo's Paw family!
- Jon & William
Co-founders of Leo's Paw
How We Help
We believe all cats should have a chance to a safe & loving home. That's why we're proud and happy to support Happy Cats Haven & The Cat's Voice WV.
They are non-profit, rescue and adoption centers, giving homeless cats another chance for a happy life.
All of our returns go to their shelters.
You can find more information about these shelters and the noble work they are doing for cats here:
https://thecatsvoicewv.org/
https://happycatshaven.org/